Today I'm back with another Book vs. Adaptation post! If you missed my previous post in this ongoing series, where I talked about the BBC adaptation of Sarah Waters' Fingersmith, you can check it out here!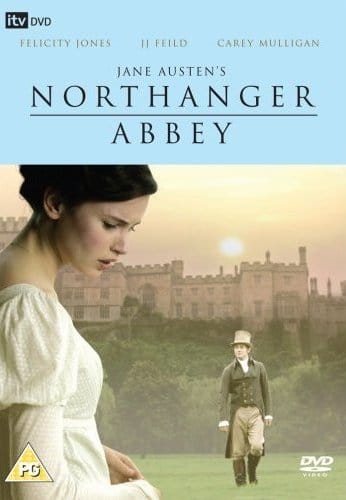 I read Northanger Abbey in July - you can check out my review here if you like! - and watched the adaptation fairly soon after. Though I'm not the biggest fan of Austen's books, I do quite like watching adaptations of her novels; they're pretty and so easy to watch. This adaptation is from 2007 and is 86 minutes long. It was originally broadcast on ITV as part of their Jane Austen season in which three of her 'lesser known' novels were adapted: Northanger Abbey, Mansfield Park (starring Billie Piper and Blake Ritson) and Persuasion (starring Sally Hawkins and Rupert Penry-Jones).
Not sure why it says BBC, it's an ITV production I swear!
When it comes to adaptations, the most important thing for me is the casting. I love a good plot, don't get me wrong, but I love engaging characters more, and if I feel as though a character I love (or even a character I hate!) isn't going to be portrayed well it makes me very nervous for the adaptation. For example I didn't think I was going to like the 2011 adaptation of Jane Eyre; I couldn't picture Michael Fassbender as the brooding Mr. Rochester and I hadn't been all that impressed with Mia Wasikowska's performance in Tim Burton's Alice in Wonderland, but it's now one of my favourite adaptations!
I was curious to see what I'd make of the casting for Northanger Abbey, and after watching it I ended up with a rather mixed bag of feelings, which is similar to how I felt after I read the book.
Those of you who have read the book may have imagined her differently, but personally I thought Felicity Jones was the perfect Catherine. She looked how I pictured her - pretty, but not stunningly beautiful, and still a little dorky and gullible - and I thought she acted the part very well. I think it'd be easy for an actress to take a character like Catherine and portray her as nothing more than a silly little girl, but Felicity Jones didn't do that and I was glad she didn't do that, because while Austen teases Catherine a little in the book she never belittles her.
Cutie patootie
I thought Felicity acted the added scenes of Catherine's saucy dreams particularly well - she really captured the melodrama of the Gothic novel!
Our romantic lead, Henry Tilney, is by far my favourite of Austen's love interests. He's funny, and I value humour far more than I value a leading man's ability to brood, and I think JJ Feild played him wonderfully; he was perfectly sassy and never unkind. I'm surprised I haven't seen JJ Feild in anything else, though I can't help thinking he looks a little bit like Tom Hiddleston.
I was interested to see what Carey Mulligan would be like in the role of Catherine's shallow friend Isabella, especially after seeing her play the heroine, Bathsheba, so fantastically in the recent adaptation of Far from the Madding Crowd, but she played the part well, and I imagine it was fun for her to play the kind of character she doesn't usually play. Plus I think this adaptation did a good job of making Isabella more of a sympathetic character, rather than dismissing her like Austen does.
The only people I felt were miscast were Henry's family. I expected his sister to be younger - closer to Catherine's age rather than older than her - and I didn't find General Tilney that intimidating. Perhaps that's because I'm so used to Liam Cunningham playing such a sweetheart in Game of Thrones, but I feel as though the adaptation could have tried a lot harder to make him a sinister figure; in the book I could understand Catherine's speculations, even though they were a little wild, whereas in this film they seemed to come out of nowhere.
As for the story itself, I thought it was very close to the book; there were the odd differences here and there, but they were so minute they didn't take anything away from the original story. It did do something which irritates me slightly in that the beginning and the end were narrated by 'Jane Austen'; I'm not a big fan of films with narrators, particularly when the narration is taken directly from a book because I think adaptations should embrace that they're a completely different medium to a book, and when they add narrators like that it's almost as though they're beckoning criticism from book purists.
Despite that I enjoyed the adaptation, and I think any Austen fan would too!