This is sort of a new feature I'd like to start on my blog - though I'm not sure how regular it'll be! - where I talk about a book adaptation. I love book adaptations, I love watching interviews with directors and producers and costume designers and actors and finding out how a particular adaptation has been put together, and why it is the way it is. Why were those actors chosen? Why do the costumes look like that? Why did the director choose to include those scenes and not others?
Last month I finally finished, and loved, Fingersmith by Sarah Waters, and a few days later I decided to watch the 2005 BBC adaptation starring Sally Hawkins and Elaine Cassidy.
If you want to hear my thoughts on the book, you can check out my review here!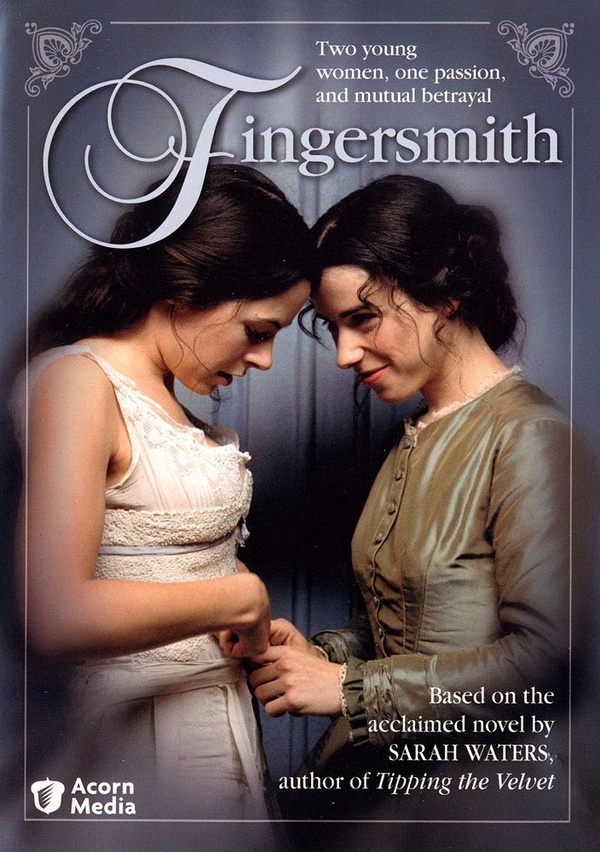 The adaptation is around 3 hours long, and was originally aired in two 90 minute episodes.
What struck me most about this adaptation is that it was cast very well. Sally Hawkins is something of a period drama veteran - she portrayed Anne Elliot in the 2007 adaptation of Persuasion and Mrs. Reed in the 2011 adaptation of Jane Eyre - so I was sure her portrayal of Sue would be perfect, but it was Elaine Cassidy who really blew me away. I wasn't sure what to expect from her, but I thought her portrayal of Maud was perfect.
The costumes and colour tones throughout gave it a very period drama feel, which I loved. It almost felt like I could be watching an adaptation of an Elizabeth Gaskell novel, not a novel written in the 21st century.
It has to be said that the adaptation wasn't as good as the book, in fact I was a little disappointed with it. This could partly be because I was so looking forward to watching it once I'd finished the book - let's face it, hype never makes adaptations better, does it? - but the adaptation was lacking something that I could never quite put my finger on.
If you're interested in this story, I can't stress enough how vital it is that you read the book before you watch the adaptation because the book will blow you away in ways I don't think the adaptation ever could. It certainly gave it its best shot - it's not a bad adaptation - and perhaps if I hadn't read the book I would have found it more dramatic than it felt, but for the most part the adaptation felt a little subdued. The book isn't exactly a loud book, if that makes any sense, but it's certainly lively and there's no doubting Waters' skill as a storyteller. If you find yourself watching it, look out for Waters' brief cameo!
So Fingersmith isn't a bad adaptation, and I'm sure I'll watch it again, but I definitely recommend reading the book before you do anything else. I'm not sure if I would have understood certain parts of the adaptation if I hadn't already read the book, and it's a fantastic read.