Time and time again on my blog I've mentioned my dislike for Peeta, and then immediately said something along the lines of 'but that's a discussion for another time' or 'but I won't get into that now', and I figured it's about time I got into it.
Now if you're a big Peeta fan you're most welcome here - people can like whichever characters they like as far as I'm concerned - but if you're the kind of Peeta fan that can't bear to see any criticism of your perfect baby angel, then it's probably best that you stop reading now. Because I don't like Peeta Mellark.
(I'd also recommend you stop reading now if you haven't read The Hunger Games/haven't finished the trilogy yet - I don't want to spoil anything for you!)
First thing's first, I think it's important to stress that I don't hate Peeta, in fact there are quite a few things about him that I really like. For example, I love that Peeta plays around with gender stereotypes in much the same way that Katniss does; I think it's fantastic we have this couple in YA who are completely opposite to what we might expect from a stereotypical couple. It's Peeta who likes to bake and paint, Peeta who doesn't like violence, Peeta who wants to fall in love and start a family, while Katniss enjoys hunting - she's good at it - and she'd much rather be left alone than have anyone fawning all over her. The two of them completely subvert common gender stereotypes, and I love that, because as much as it's important for women to know they don't have to like typically feminine things, it's just as important for men to know they don't have to like typically masculine things.
I can also appreciate that the two of them do make a good team in the arena. While Katniss handles all the brutal stuff within the arena, Peeta handles all the political, backstabby (it's totally a word) stuff outside the arena. He knows how to win over a crowd, and he does it well.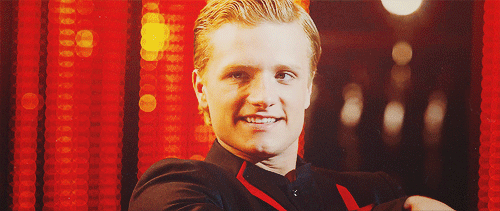 And perhaps most importantly in terms of this post, I understand why Katniss and Peeta make sense as a couple. Ultimately no one's really going to understand what the two of them went through like the other can, and this series is all about surviving through the consequences of war and these two need each other to survive because without each other their mental state can fall into a dark, dark place.
BUT
I'm personally not a fan of the two of them as a couple. Don't worry, this isn't going to be a post for Team Gale or any of that crap - screw Team Peeta and Team Gale, I'm on Team Katniss.
First and foremost, I read Katniss as aromantic: someone who doesn't experience romantic attraction. Someone who is aromantic isn't necessarily also asexual, but unfortunately, like asexuality, it's something which is often overlooked. That's not to say she is aromantic - the only person who knows that for certain is Suzanne Collins - but she always felt that way to me; she kisses both Peeta and Gale when they're upset because she doesn't know how else to comfort them, and she's aware that people kiss the ones they love. There's no denying that she loves Peeta, in the same way that she loves Gale, but in my opinion it's not necessarily romantic love so much as it is companionship. For me, Katniss's most important relationship is always going to be her relationship with Prim.
Even when Katniss claims to be in love with Peeta, it still doesn't feel quite like romantic love to me so much as it feels like the plea of a young girl who needs the one person around her who can understand her.
As much I'm not a member of Team Gale, just as I'm not a member of Team Peeta, I do hate the way Gale is treated by a lot of fans. Gale and Peeta are pretty shitty towards Katniss, particularly in Catching Fire when both of them are pressuring her into being in love with them when frankly Katniss has bigger fish to fry. On top of struggling with PTSD, she's also a 16 year old girl who has accidentally started a rebellion and because of that the President himself is threatening her friends and family. But neither of them take that into account at first, despite the fact that Peeta wouldn't be alive if it weren't for Katniss. How can he expect feelings she had to develop to stay alive to be completely true? How can he expect her to even think about something like romance when it's a struggle for her just to get out of bed on a morning? Still Gale's the one who seems to get the most hate. Why? Because Peeta's nice.
Constantly Katniss is told that someone like her should feel lucky that someone like Peeta loves her, that she doesn't deserve someone so nice and good and sweet:
"You could live a thousand life times but you will never deserve that boy."
Now obviously other characters saying that isn't Peeta's fault, but it doesn't make me like the guy anymore. Katniss is such a compelling, fantastic heroine; she's flawed and selfish and selfless and brave, and yet all anyone cares about is how much of Peeta's love she's earned.
The thing that makes me dislike Peeta most, however, is the epilogue to Mockingjay. The epilogue made me so uncomfortable. Obviously this isn't a light, fluffy trilogy so perhaps it'd be weird if I didn't feel uncomfortable, but it didn't make me uncomfortable in the way I expected it would. Don't get me wrong, I love the way Collins writes characters who are never going to be okay again; Katniss and Peeta have been royally fucked over by war, and no amount of medication or therapy is going to make them better. I love that realism behind the series. Yes, Katniss began the revolution that will prevent the annual deaths of hundreds of children in years to come, but at what personal cost?
What I hated most was the way Katniss talked about her children. In the very first book Katniss tells us she doesn't want children. For the most part we can assume that's because there's the chance they'd be reaped and have to compete in the Games. I'm sure we can all understand that. However, there may be something deeper to it - perhaps I'm looking into it too much, but maybe Katniss never wants to have children period. It could be marriage and children is not something that interests her, which further supports my theory of her being aromantic.
To me it felt as though Katniss did NOT want those children, regardless of how much she loves them now they've been born. Let's look at the way she talks about them, shall we?
'It took five, ten, fifteen years for me to agree. But Peeta wanted them so badly. When I first felt her stirring inside of me, I was consumed with a terror that felt as old as life itself. Only the joy of holding her in my arms could tame it. Carrying him was a little easier, but not much.'
Not 'we'. Peeta. Katniss had children because Peeta wanted them, because over the course of 'five, ten, fifteen years' he finally managed to wear her down and he got what he wanted. I'm not trying to suggest that Peeta's an abusive husband - I don't think their marriage is an unhappy one, though I doubt either of them are ever really happy either - but it is possible for people who don't want children to basically be bullied into having them, and those lines just made me so uncomfortable.
I hate this idea that because Peeta's nice, he gets to have everything he wants. I'm not saying he doesn't suffer because the poor guy really does - he gets tortured by the Capitol, for heaven's sake - but there are a lot of fans out there who think he can do no wrong when actually, you know what, he can. He's not an angel, he's human. Yes we can argue that Katniss just happened to change her mind about having children, but the fact of the matter is she's so broken by the end of Mockingjay it probably wouldn't have been too hard to get her to do pretty much anything if you kept going on and on and on about it. All throughout her teens she was surrounded by people who were constantly telling her how much of a terrible person she was compared to Peeta, so it's no wonder she ends up giving the guy what he wants.
I don't think people shouldn't like Peeta - I completely understand why he's a fan favourite - I just wish some fans would look at the trilogy a little more critically. I'm not suggesting we should purposefully read things to talk about what we don't like about them, that's not what it means to read critically, and I'm also not saying you have to read critically. Read however you want! But sometimes just look at something a little differently.
Look at this trilogy, not as a series of books about a teenage girl who has to choose between two boys, but as a series of books about a teenager whose life is literally threatened by her government, who's been feeding her family since childhood after the death of her father sent her mother into a severe depression, who tried so hard to protect her little sister and still wasn't strong enough to protect her from a bomb because how could she be? Then reread that epilogue, and see how it makes you feel.
My perfect ending for Katniss was for her and Prim to go and live somewhere peaceful and quiet, selling cheese from Prim's goat and enjoying the tranquility of the countryside while Prim became a fantastic doctor and looked after Katniss when the nightmares came. If not that, I'd've loved to have seen Katniss and Johanna together romantically or not, I don't care travelling Panem and smashing the patriarchy. But that's just in my own little fantasy...
Katniss: my precious baby angel.
So there you have it. That's why I don't like Peeta. I'm sure you're all just willing me to shut up, but I figured it was about time I actually talked about this.
So, what are your thoughts?